For Fall/Winter 2021 our design team drew inspiration from a lifestyle spent on and around the water. A collection that is suitable for all kinds of unpredictable weather: from sun to rain and from heat to cold. Technical designs, smart fabrics and functional details will protect you against the elements.
At Qubz, we believe in the power of simplicity, but we are not afraid to use bold and vivid colors to make you stand out in the stream. In this collection, our first range of colors consists of blue and navy tones mixed with a misty green. A classic cherry color is added to the mix. Our second range of colors contains green tones, bottle and moss, combined with black. A touch of gold is used to lighten things up. Qubz brings you your basic wardrobe essentials, combined with technical, new and bright details.
This season we introduce 'The Luminous' – a jacket made from reflective material that makes you visible on the streets at night. At Qubz we encourage you to Be Bright, and that's exactly what you will be wearing this new innovative design. The jacket, featuring details in our signature electric blue, contains several smart design elements. It includes a hidden hood which can be unfolded and pockets lined with thermo fleece to keep your hands warm and comfortable. The inner quilted and extra bulky padding is made from warming eco material. The outer layer is water repellent to protect you against the rain. The ideal jacket for this season, in which style and functionality collide.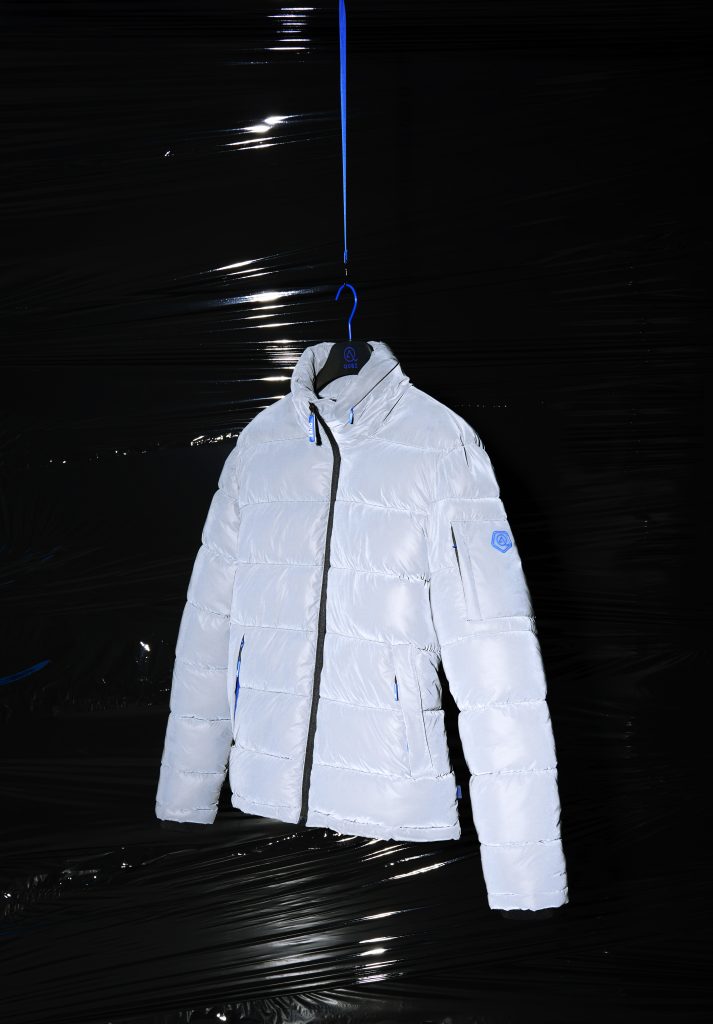 The parka in our Fall/Winter 2021 collection is designed to provide you with optimal comfort during all kinds of outdoor activities. The fully waterproof coat features our signature electric blue details and is lined with ultra-soft silver metallic fabric. We used a breathable and smart material that regulates your temperature, with an eco-friendly padding that functions as a windbreaker in stormy weather conditions. Besides effortless style, the parka is designed with comfort and convenience on top of mind. We added waterproof zips to the pockets and lined them with thermo fleece to keep your stuff safe and your hands warm. The front closure features a two-way zipper for more mobility when you are on your bike. The detachable hood can be adjusted and we attached an innovative strap that you can use to carry the parka on your shoulder. To finish it off we added reflective tape to the inside pockets so you can easily find them in the dark.